Creating a quiz dot-to-dot using Oh, My Dots! can be a fun and engaging activity for children of all ages. Oh, My Dots! is a popular dot-to-dot game that allows players to connect the dots and reveal a hidden image. In this article, we will go through the steps to create a quiz dot-to-dot.
What is a Quiz Dot-to-Dot
A quiz dot-to-dot is a type of educational activity where players connect dots in a specific order to reveal a hidden image. But differently than a regular dot-to-dot game, each dot is not associated with a number but with a quiz answer. To find the correct order, the player must answer the quiz questions. At Oh, my Dots! you can create as many free games as you like. You can play the games online, or print them for some offline fun.
How to Create a Quiz Dot-to-dot game
Step 1: Choose a Quiz Theme
The first step in creating a quiz dot-to-dot is to choose a theme. It can be a fun holiday, an animal, a popular character or anything you like. This theme will determine the subject matter of your quiz dot-to-dot.
Step 2: Find an Image
Once you have chosen your theme, you need to find an image that fits the theme. You can search for images online, use a stock photo, or create your own. There are many websites site Pixabay and Pexels with royalty-free stock photos. The automatic dot-to-dot generator works better when you select an image that has a clear solid background.
Step 3: Create the Quiz
Now that you have an image, it's time to create the quiz. Open www.ohmydots.com and select the "Create a Game" option. Then select the option "Quiz dot-to-dot". In the welcome screen, you can drag and drop the chosen image to the marked area, or click on the browse button and select the image.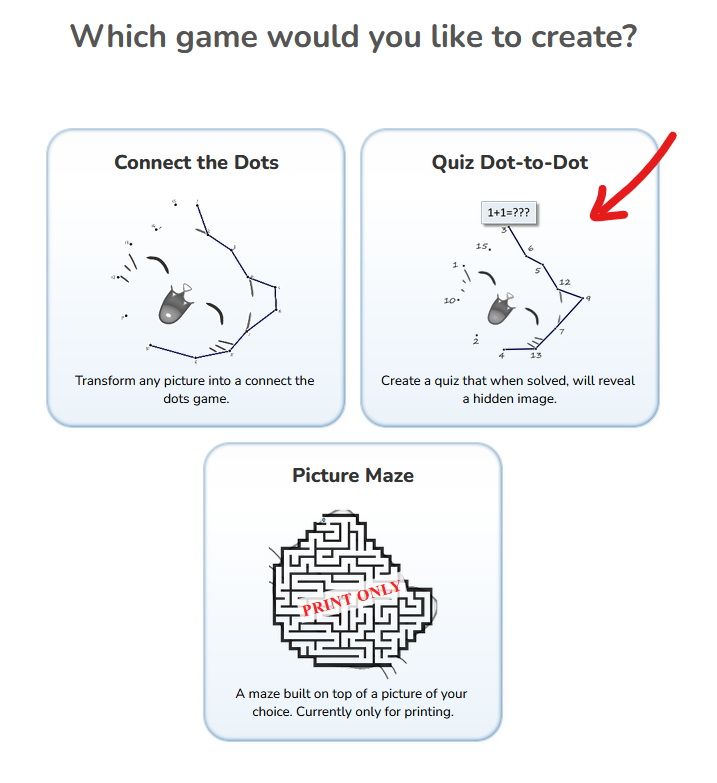 Step 4: Add Questions
Once you have set up your quiz, it's time to add questions. Select the number of questions and fill in the questions and answers. There are two quiz modes:
Simple mode
In the simple mode, each question has only one answer. The challenge consists in finding the answer among the various options and connecting the dots following the quiz questions. When creating the quiz in simple mode, make sure that the answers are unique.
Multiple choice
In the multiple-choice mode, for each question, there are two or more answers. The player has to connect only the right answer to draw the picture and reveal the image.
Step 5: Arrange the dots
The dot-to-dot creator will add one point for each question positioning them based on the picture you've chosen. You can fine-tune it and re-arrange the dots by dragging them to the desired position.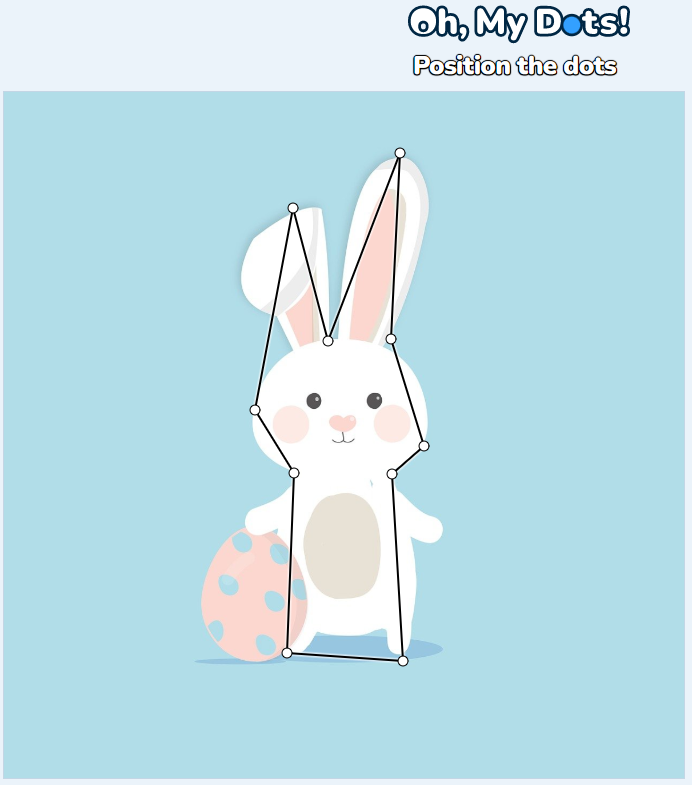 Step 6: Test the Quiz
Before publishing your quiz, it's important to test it to make sure it works as expected. Click the Start button to play it through to see if the questions are clear, the dots are easy to connect, and the image is revealed correctly. You can increase and decrease the font size to enhance readability.
When printing a multiple-choice quiz, you need to choose the type of numbering, so that the player knows which dots are related to which question.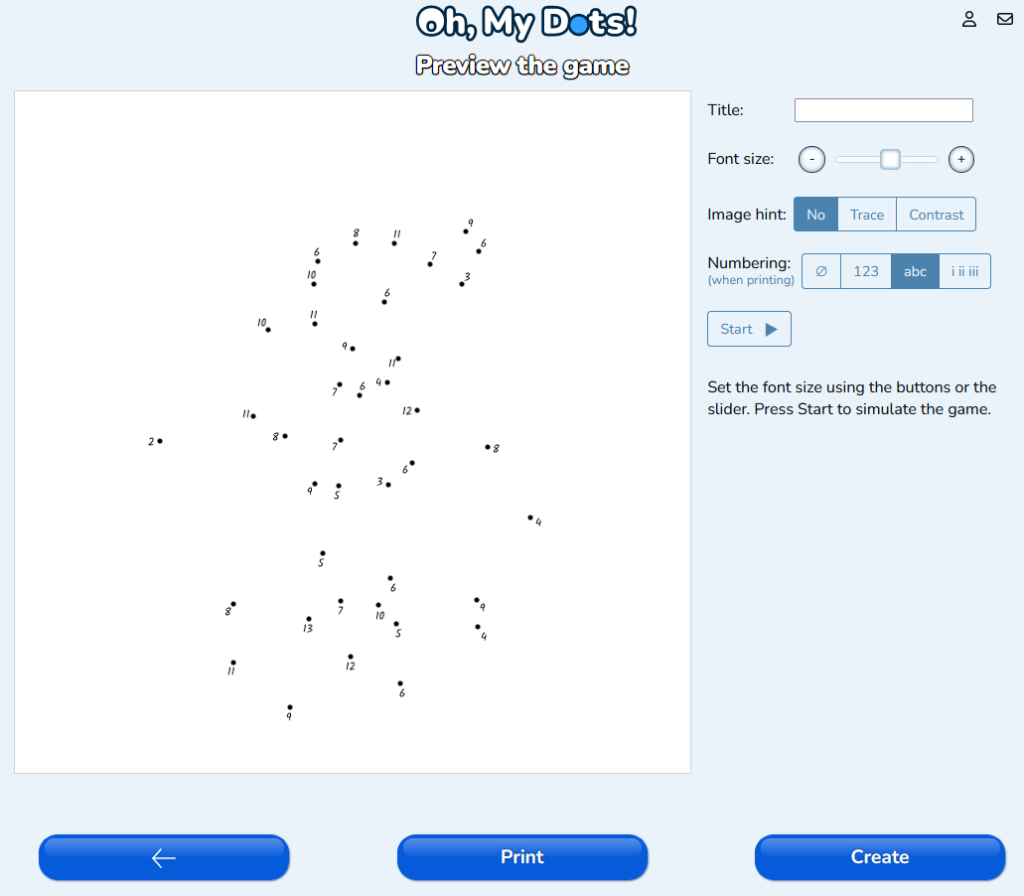 Step 7: Publish the Quiz
Once you are satisfied with your quiz, it's time to publish it. Just press the Create button to generate a share link. Oh, My Dots allows you to share your quiz with others by sharing a link. You can also share it on social media to reach a wider audience.
In conclusion, creating a quiz dot-to-dot using Oh My Dots is a fun and easy process. Whether you're looking to create a fun activity for children, or you're a teacher looking to engage students in the classroom, a quiz dot-to-dot is a great way to do it. With Oh My Dots, you can create a quiz that is both entertaining and educational, making it a great tool for learning and having fun.