Dot-to-dot puzzles are a classic activity for children that not only help them develop their hand-eye coordination but also provide them with a sense of accomplishment once they complete the puzzle. And with Easter just around the corner, creating an Easter-themed dot-to-dot puzzle can be a fun and engaging activity for kids of all ages.
In this article, we will guide you through the process of creating an Easter-themed dot-to-dot using the website Oh, my Dots!. This website is an excellent tool for creating dot-to-dot puzzles with ease, even if you have no experience in design or programming. So, let's get started!
How to create a free Easter connect the dots game
Step 1: Choose your image
The first step in creating your Easter-themed dot-to-dot is to choose an image to use as the basis for your puzzle. You can either upload your own image or search for one using the search bar at the top of the screen. You can search for keywords such as "Easter," "bunny," "egg," or anything else that comes to mind. Once you find an image you like, download, and save it to your device.
Step 2: Visit Oh, my Dots!
Now, you'll need to visit the Oh, my Dots! website at https://www.ohmydots.com/. This website is designed specifically for creating dot-to-dot puzzles, and it's incredibly user-friendly. You'll find a blank canvas with a toolbar on the left-hand side of the screen that contains all the necessary tools for creating your puzzle.
Step 3: Open the Connect the Dots Generator
Click on "Create a Game" and select "Connect the Dots". Then click on the big button "Drop a picture here or browse" and select the Easter image.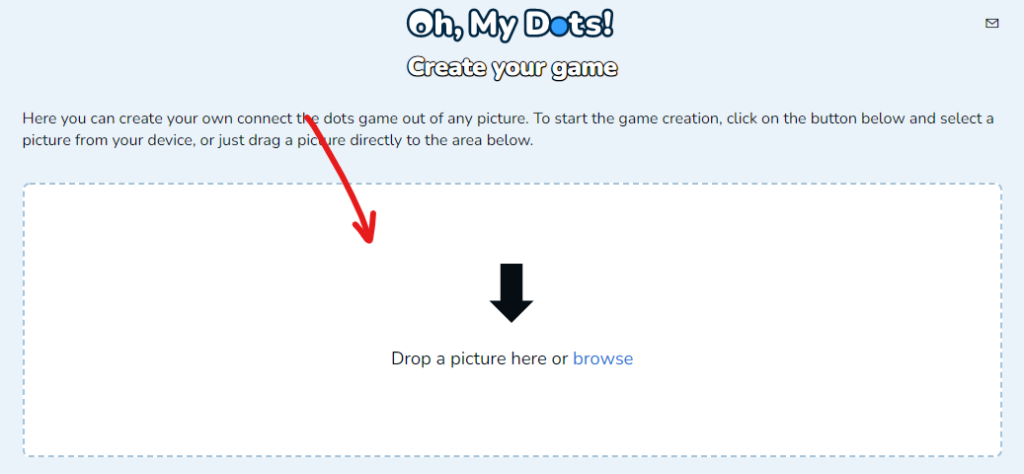 Step 4: Add dots
Now that you have your image set up, it's time to start adding dots to create your puzzle. The connect the dots generator will try to create a shape for you. You can drag the dots or click on the lines to add new dots. You can delete dots by double-clicking/tapping on them.
Once you are ready click on next.
Step 5: Create the Easter Dot-to-dot
To create an Easter dot-to-dot, select the Easter egg in the controls bar at the right on desktop devices or at the bottom on mobile devices.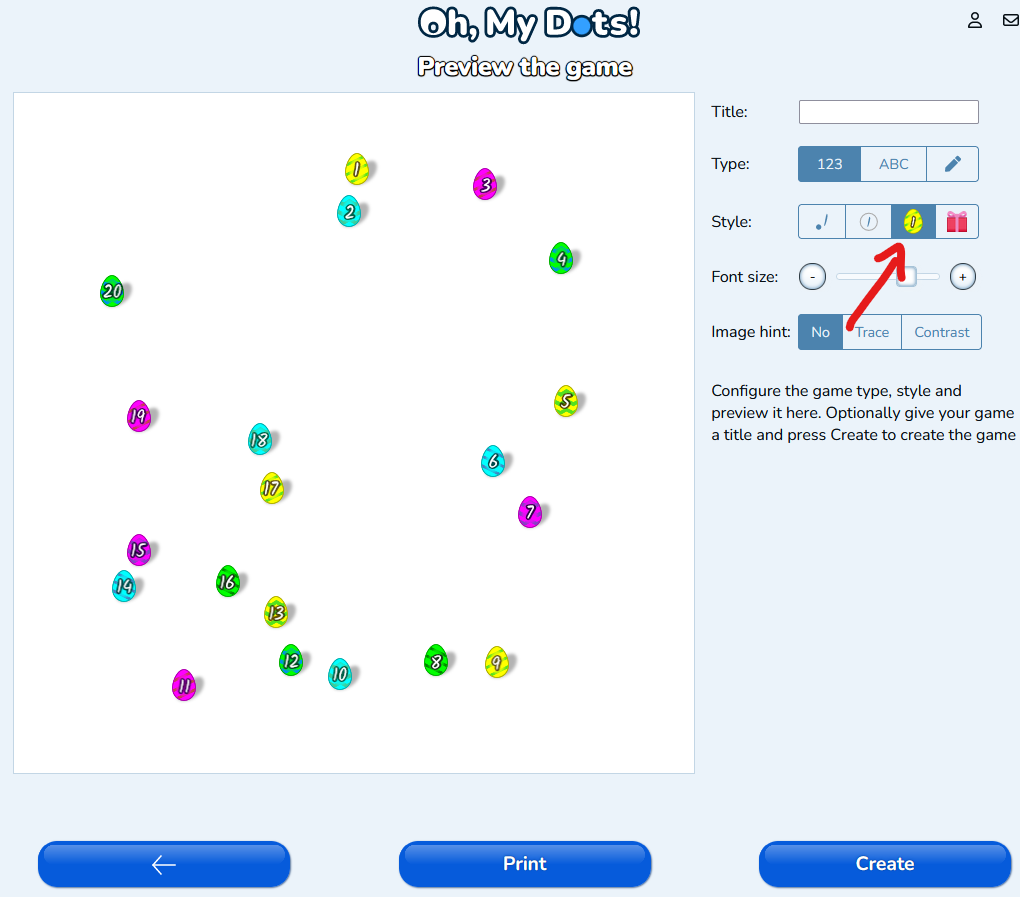 Step 6: Customize your puzzle
Now that you have your basic puzzle created, you can customize it further to make it even more unique. You can add a title to your puzzle by clicking on the "Title" button in the toolbar and entering your desired text.
You can also select between numbers, letters, or a custom sequence for the text inside of the eggs.
Additionally, you can adjust the font size or add an image hint (an image that appears inside of the shape) to make it more fun.
Step 7: Save and share your puzzle
Once you're happy with your Easter-themed dot-to-dot puzzle, you can create an online game by pressing the button "Create". This will create a unique link for your game that you can share with your family and friends. To save it to your device, click on the "Print" button in the toolbar. This will download your puzzle as a PDF file that you can print.