Playing connect the dots game could be one of the most satisfying things for kids to do. It's both engaging and relaxing.
What is a Connect the Dots?
A Connect the Dots is a fun online game for kids. In this game, you connect dots to create a picture. This can be a great way to improve your child's hand-eye coordination and problem-solving skills.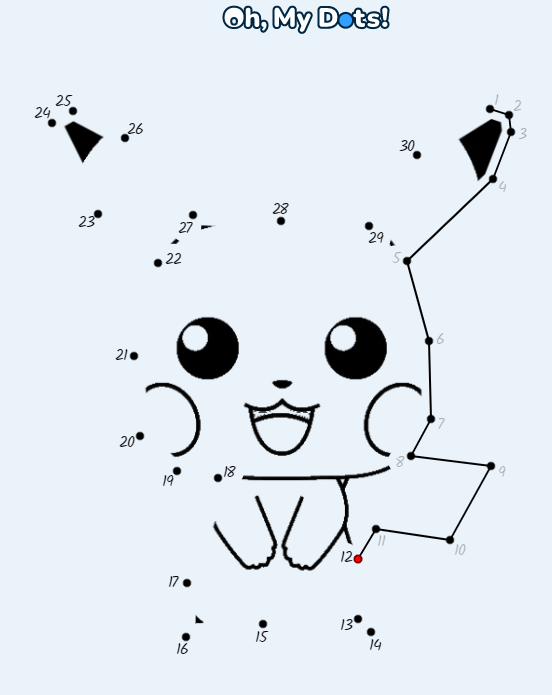 How to Play Connect the Dots Game Online
Connect the dots is a classic game that has been around for centuries. The game is simple yet addicting and can be played by people of all ages. While the game is traditionally played with pencil and paper, there are now many online versions of the game that can be played for free.
One of the best things about playing connect the dots online is that there are no rules or restrictions. You can start and stop whenever you want, and there is no need to keep track of scoring. You can also choose from a variety of different puzzles, ranging from easy to very difficult.
If you're looking for a fun and relaxing way to kill some time, then playing connect the dots online is definitely for you! We suggest the free website Oh, My Dots!, where you can browse 100s of games of all types or event react your own game
Tips for Playing Connect the Dots
If you're looking for a fun and educational online game for your kids, look no further than connect the dots! Connect the dots is a great way to help kids learn numbers and improve their fine motor skills. Plus, it's a lot of fun! Here are some tips for playing connect the dots online:
1. Start with an easy puzzle. There are lots of different connect the dots games online, and some can be quite challenging. If you're just starting out, look for an easy puzzle with large dots and not too many of them.

2. Take your time. There's no rush when it comes to connect the dots. Let your kids take their time and relax while they play.
3. Help if needed. If your child is having trouble connecting the dots, give them a little help. But don't give them all the answers – let them figure it out for themselves!
4. Encourage problem solving. If your child gets stuck on a particular puzzle, encourage them to keep trying or to try a different approach. Connect the dots is all about problem solving, so this is a great opportunity to help your child practice this skill.
Have fun!
Conclusion
We hope you enjoyed our article about connect the dots games for kids! These online games are perfect for young children who are just learning how to count and recognize numbers. They also help with fine motor skills and hand-eye coordination. If you're looking for more ways to keep your kids entertained, check out our other lists of online games for kids.