Why a dot-to-dot game is a perfect activity for kids during the holidays
Looking for a fun and festive activity to do with the kids during the holiday season? Why not try a Christmas dot-to-dot game? Not only is this activity super cute and Christmassy, but it's also great for helping kids improve their fine motor skills, concentration, and problem-solving ability. Plus, it's just plain old fun! So next time you're looking for something to do with the kiddos, give a dot-to-dot game a try – they'll be sure to love it.
There are different ways you can make a Christmas dot-to-dot game. You can just use this incredible free online tool "Oh, my Dots!". At "Oh, my Dots!" you can create as many dot-to-dot games as you wish to play online or print. And they have two special Christmas modes: Christmas Balls and Christmas Gifts. Or you can go old-style and draw everything yourself.
How to make a Christmas connect the dots game to play and print
1. Go to www.ohmydots.com

In your preferred Internet Browser, open the www.ohmydots.com website

2. Open the connect the dots creator

At the main Oh, My Dots page, press the Create my own connect the dots game button

3. Select a picture

At the dot-to-dot creator, press the browse button to select a picture from your device.

Tip: You can select and picture as you like, but the game generator works better if the picture has a solid or transparent background.

4. Add, move or remove the dots

The dot-to-dot creator will automatically generate the sequence of the dots based on the uploaded picture. The initial image will contain 20 dots. You can change it by using the plus and minus buttons or the slider. Alternatively you can type the desired number of dots in the Points field.

To move a dot in the picture just drag it to the desired position. To add a dot between two existing dots, click/tap on the line where you want to add the dot and drag it. To delete a dot, double-click/tap it.

When you are finished press the Next button.

5. Preview, configure, and create the game

Give a title to your game. The title appears when you share your game on any social media.

Configure the game type between Numbers, Alphabet, or Custom. In the Custom mode, you can create your own sequence with numbers and/or letters.

Choose one of the two Christmas modes. In the gift mode, the numbers are hidden and an elf will pop up showing the numbers. In the Christmas ball mode, the dots are replaced by Christmas balls. Just click the buttons to try them out.

You can change the font size if you believe it is too hard to read or if the dots are colliding.

You can optionally add a hint image, which is used only when printing the game.

Once you are done press the Create button to share the game online game or save it for later. Or press the Print button to download a printable PDF worksheet.
A guaranteed Christmas fun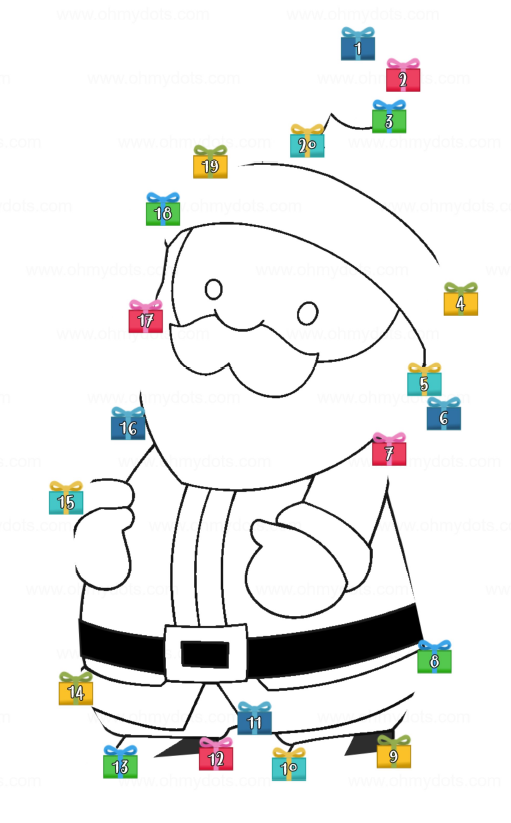 How to make your own dot-to-dot game offline
If you're feeling crafty, you can even make your own dot-to-dot game offline! All you'll need is some paper, a pencil, and some festive holiday stickers.
First, draw a simple picture on your piece of paper – something like a Christmas tree, reindeer, or gingerbread man would be perfect. Then, use your pencil to draw dots all around the outline of your drawing. Make sure to number the dots so that they can be connected in order – this will make the game a lot easier for little ones.
Once your dots are all in place, it's time to decorate! Stick on some festive stickers or use markers or crayons to color your picture. Then, cut out your picture and get ready to play!